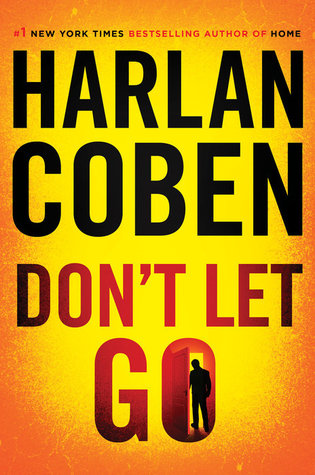 Published September 26th 2017 by Dutton Books
I have read and enjoyed quite a few of Harlan Coben's books over the years. After reading the description for "Don't Let Go" I was really excited to get reading.
New Jersey Detective Napoleon "Nap" Dumas has been searching for fifteen years.  He's been searching for his high school love, Maura. He's also been searching for answers to what happened on the fateful night that his twin brother and girlfriend were found dead on the train tracks.
Now fifteen years later Maura's fingerprints have been found where a crime has been committed. Will Nap finally find Maura and find out what happened that terrible night all those years before? Could it have something to do with the nearby abandoned military facility?
I really liked the way the book started. I found it was interesting and I was intrigued. However, after a while I found myself drifting. I was having a hard time with all of the characters and was easily distracted by other things going on.
I really liked Nap and enjoyed leaning about what he was like when he was younger. However, I wondered if an eighteen year old would really have the foresight that he did. I guess maybe he would have had the instincts of a cop early on. There were times he seemed very intelligent with great investigative skills. But then there were a few times I felt like he should have been more prepared as a seasoned police officer. I won't say more as I don't want to ruin anything for anyone.
There was a lot that I liked about this novel but unfortunately there were things that lessened my enjoyment of it. The story-line was interesting but there were many things that I found far-fetched. I often tell myself that it is normal when I'm reading fiction to have to suspend disbelief. Maybe I'm just being too fussy, but I found myself having to do it quite a bit while reading this novel. The book brought up a lot of important thought-provoking issues, but I just had a hard time staying connected to the story.
I've seen a lot of great reviews from readers that have really enjoyed this novel. It could very well be a case of "it's not you it's me".  I've enjoyed quite a few of the author's other books. The Stranger, Hold Tight, and Stay Close are among my favorites.  Although this wasn't my favorite from this author, I do look forward to seeing what Mr. Coben writes in the future.
Thank you to NetGalley and PENGUIN GROUP Dutton for the opportunity to read this book in exchange for my honest review.