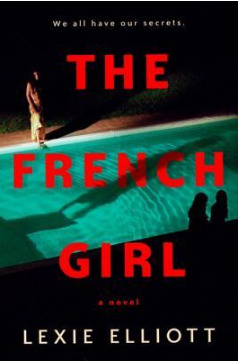 Expected publication: February 20, 2018
Berkley Books
"We all have our secrets" was the first thing I read when I looked at the cover of the book.  Then I flipped the book over and saw…
"You'll never look at your friends the same way again"
Both of those sentences intrigued me and I was excited to get reading.
Six friends from University spend a blissful week on holiday in a French farmhouse. It's almost a perfect week….
Well except for the fact that "the mademoiselle next door" they met, disappeared without a trace right after they left to go home to Britain.
 "Severine, slim and lithe in a tiny black bikini, her walnut brown skim impossibly smooth in the sun, one hip cocked with the foot pointing away as if ready to saunter off the moment she lost interest"
Ten years later…
When Tom calls Kate, she realizes it's been awhile since they last spoke. When he asks if she remembers "that summer", she knows immediately what he's talking about…
 "They found her. Her body"
Kate isn't really all that concerned. She's focused on getting her legal head-hunter business off the ground. But as it turns out, Kate should be concerned. The French police are re-opening the case now that Severine's body has been found.  They want to talk to the group of friends again, since they were apparently the last people to see her.
Kate feels like Severine is haunting her….Kate knows she's not really there but even thinking about Severine stirs up memories…. unwanted memories.
And it seems that the investigator from the French police, Monsieur Alain Moden keeps showing up and asking some hard questions. He says it's just procedure…but then keeps popping up unexpectedly asking even more questions and making accusations. The group of friends all seem to have different memories of that holiday and they all have their own secrets…
Why did they argue the last night of their holiday?  What are they hiding?
Over time things change and you may not remember them in the way they actually happened. Is it memory loss or deception disguised that way?
So what really happened to Severine?
"The French Girl" was a slow-paced but interesting read. The plot was good; I just wish it was a bit heavier on the suspense. All in all a good debut novel that has me looking forward to more from Lexie Elliott.
Thank you, Berkley Books for providing an advanced readers copy of this book for me to read in exchange for my honest review.