I read this novel last year under the title "What Was Mine" It was recently released under the new title "Someone Else's Child". I really enjoyed the book and posted my original review below.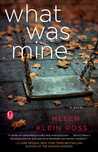 What Was Mine by Helen Klein Ross
Published January 5, 2016
Gallery Books
My rating: 5 of 5 stars
I do try my best to not spoil anything in the story but if you don't usually read the entire book description (which is how I base how far to go) then proceed with caution.
*************************
When I first read the book description I felt like it almost told the whole story. But honestly this book is about so much more than a kidnapping. Obviously that is a huge part of it. But it's very different from any other kidnapping story I have read. Right off we know who did it. But we also see how everyone is affected by it. We see time passing and how everyone tries to cope. It is about a kidnapping but It's also about the power of a mothers love, family, the connection between mother and daughter, loss, anger, reunion, forgiveness and so much more.
We first meet Lucy Wakefield. Lucy tells us she can't tell her story straight. She has to tell it in circles, like rings of a tree that signify the passage of time.
Lucy starts by saying how badly she wanted a child. She is very successful in business but what she wants most is a child. She is devastated that she's been unable to conceive a child after years of trying both naturally and with medical help. When having a child consumes all of her thoughts and time, her husband eventually leaves her. She knows that her chances of adopting as a single mother are very slim. On one of her frequent trips to IKEA she makes a split second decision that will change her life and the lives of so many others. She sees a baby sitting alone in a cart. She picks the baby up and leaves the store.
Just like that she's kidnapped a baby……and she gets away with it for 21 years.
Marilyn has relived the day that her daughter was stolen from her over and over. She remembers that she overslept that day. She remembers that the babysitter had to cancel and she was anxious as she was supposed to deliver a report at work that afternoon.
"Without a babysitter, I was in trouble or so I thought, then unaware of what real trouble was."
I can't even imagine going through something like this.
I loved that the chapters were labeled clearly as there were many points of view. It just made the alternating perspectives of Mia, Lucy, Marilyn and so many others involved easier to keep up with. An easy read in regards to the way it was written. But it was also emotional, heartbreaking and devastating. I felt all kinds of things reading this powerful book! All of the characters were very well developed. The author writes about what the characters go through so well. The passing of time and how differently people adapted to what had happened. I was interested in everything the author was writing about. As much as I wanted to see what was going to happen I was still enjoying everything I was reading, learning about meditation and yoga, the reunification process, China and Chinese culture and more.
I felt the author ended the book fairly well. A bit open to interpretation but I was okay with it. I can't even imagine how hard it was to try to write an ending to a story like this.
I highly recommend this engrossing read. I look forward to more from Helen Klein Ross. I hope she is hard at work on her next novel.
Thank you to Helen Klein Ross, Meagan Harris, and NetGalley for the opportunity to read this advanced copy in exchange for my honest review.