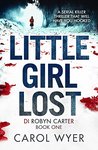 Little Girl Lost by Carol Wyer
Published January 19, 2017
Bookouture
My rating: 4 of 5 stars
This is the first novel I have read from Caroly Wyer and I thought it was a pretty good read. With so many characters and so much going on in this novel, I will try my best with this review.
As the book begins 9-year-old Alice is upset because she doesn't want her mummy to go out that evening. Her mother tells her to be a big girl. But Alice has her reasons for being nervous.
"It was going to happen again – even though he wasn't in the house. She just knew"
She asks her mother again if she has to go out. Her mother tells her this is their chance for happiness. Her mother is to be married to Paul. Alice feels that it's too soon as her daddy has only been gone less than a year. Her mother thinks that Alice should be happy….soon she will have a new step-father and a new brother and sister, Natasha and Lucas.
Natasha seems okay and Alice thought that Lucas was okay too. But that was before the other night. Alice tries not to worry because Lucas is out, staying at a friend's house overnight.
But something happens that night that will change the course of all their lives.
**I have to say that I had a really hard time with the prologue. It felt like there was a lot of graphic detail and I thought I might have to stop reading but I kept on. It did settle down after that but the first part was definitely upsetting and hard to read.
Present day we meet Detective Robyn Carter. After a devastating loss, she has been working as a PI with her cousin while she recovers. However, she's feeling stronger and will be going back to work with the police soon. But when a PI case looks like it's connected to a double homicide, she ends up going back to work sooner than she thought.
Abigail Thorne is married to Jackson and they have a beautiful daughter, Izzy. Her husband Jackson works as a private pilot. It's been an adjustment for everyone since Izzy was born. Between Jackson's odd hours and Abigail's focus on Izzy, they have had no real-time for each other and they are both stressed out. But Abigail has another reason to be stressed. She's been keeping secrets from her husband and now it seems that someone else wants these secrets to come to light. However, after receiving another anonymous text it seems like she's not the only one keeping secrets.
Someone wants to destroy her marriage. But who? and why?
And what does a murdered millionaire and missing teacher have to do with Abigail? Do they have something to do with the messages she's been receiving?
The first part of the book took awhile to get a grasp on. There are a lot of characters and there's a lot going on. The story is told in a then and now format and was a bit confusing but eventually I caught on.
In "then" Alice's story continues….we learn more about her childhood. In "now" Abigail's life continues to spiral out of control. Someone is out to make her life unbearable. They tell her that the worse is yet to come. Are her and Izzy in danger? After more threatening messages and a particularly horrible incident she speaks with Detective Robyn Carter.
So how are all of these incidents and people connected? And who and where is Alice now?
I would think I knew what was happening but then something would send me off in another direction. I had to know what was going on. How were these characters all connected?
This was a fast paced and gripping read. Intense and with twists and turns right up until the very end. I honestly didn't guess the ending, though I may have had a few things right. However, even if I had guessed who did what, I think I would still have been just as interested.
Detective Robyn Carter is a really interesting character and I would love to read more about her. She's a great detective. Having suffered through such a devastating loss, she was determined to prove to herself that she hadn't lost everything. I think that this has the opportunity to be a very good series. I know that I'm looking forward to book two.
Thank you NetGalley, Bookouture, and Carol Wyer for providing an advanced readers copy of this book for me to read in exchange for my honest review.