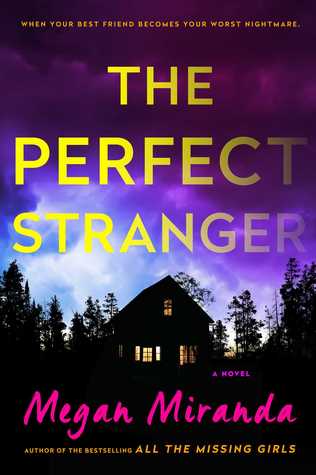 The Perfect Stranger by Megan Miranda
Published April 11, 2017
Simon & Schuster
My rating:  3 Stars
I really enjoyed Megan Miranda's previous novel "All the Missing Girls". After reading the description of "The Perfect Stranger", I was looking forward to reading it as well.
"A journalist sets out to find a missing friend, a friend who may never have existed at all."
Leah Stevens runs into an old friend, Emmy Grey at the perfect time. She needs to get out of Boston after her career as a journalist takes a nosedive and Emmy wants to get away from a toxic relationship. It's the answer to both of their problems. They move to rural Pennsylvania, a place where they can both start over. Leah starts her job as a teacher and Emmy seems to work a few odd jobs here and there. Leah tells her mother she quit her job and is moving to Pennsylvania to teach. But she doesn't tell her mother the real reason she quit her job….
"My God, Leah, What did you do?"
Leah and Emmy settle in. They don't see each other a lot during the week as Emmy often works the night shift. She doesn't have a cell phone either, so Leah has to leave her post-it notes if she has a message for her. When Leah realizes that the notes haven't been moved at all, she realizes it's been a couple of days since she has seen her. Because of their different schedules, it's not completely out of the ordinary so she tries not to worry.
The next day on her way to school, Leah comes upon a police roadblock….
A woman has been attacked.
Leah immediately worries that it's Emmy who's hurt. Thankfully it's not. But things get even stranger when she sees a picture of the woman who was attacked…The woman's name is Bethany Jarvitz, and she looks a LOT like Leah.
Now the police and Detective "easy on the eyes" Donovan, want to talk to Leah about this man. Leah tells the police about the phone calls she has been getting, nuisance calls from someone who didn't seem to get the hint. She figured the calls were harmless.
"You think you're too good for us, Leah?"
The police want more information but Leah is hesitant to get involved. She doesn't want her name attached to anything. She has her own secrets. But when Emmy still hasn't shown up after four days, Leah knows she needs the detectives help and she'll have to help him too. When he starts asking questions, Leah realizes there's a lot she doesn't know. She isn't even sure where Emmy works.
Does she REALLY know Emmy at all?
As excited as I was to read this, I had a hard time getting into the story. A few of the decisions Leah made really annoyed me and I had a hard time connecting with her. There really was a lot going on. I started feeling like things weren't coming together and I was a bit confused.
In the end I thought this was a decent read, I guess I was just hoping for more. But of course, this is just my opinion and there will probably be many other readers who will really enjoy this book. While I definitely didn't like this one as much as All the Missing Girls, I still look forward to reading more from Megan Miranda.
Thank you NetGalley, Simon & Schuster, and Megan Miranda for providing an advanced copy of this book for me to read in exchange for my honest review.