Throwback Thursday is a meme created by Renee at It's Book Talk to share old favorite books rather than just the new shiny ones. This is a great idea to bring back to life some much-loved books. Please feel free to join in.
My choice for this week is: 

The Lovely Bones




by

Alice Sebold

Goodreads Description
The Lovely Bones is the story of a family devastated by a gruesome murder — a murder recounted by the teenage victim. Upsetting, you say? Remarkably, first-time novelist Alice Sebold takes this difficult material and delivers a compelling and accomplished exploration of a fractured family's need for peace and closure.
The details of the crime are laid out in the first few pages: from her vantage point in heaven, Susie Salmon describes how she was confronted by the murderer one December afternoon on her way home from school. Lured into an underground hiding place, she was raped and killed. But what the reader knows, her family does not. Anxiously, we keep vigil with Susie, aching for her grieving family, desperate for the killer to be found and punished.
Sebold creates a heaven that's calm and comforting, a place whose residents can have whatever they enjoyed when they were alive — and then some. But Susie isn't ready to release her hold on life just yet, and she intensely watches her family and friends as they struggle to cope with a reality in which she is no longer a part. To her great credit, Sebold has shaped one of the most loving and sympathetic fathers in contemporary literature.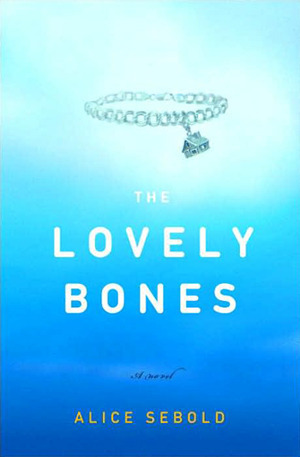 Published June 2,  2002
Little, Brown and Company
I picked this book up back in 2003 and read it from start to finish in one day. I read it back before all of the hype so I don't think I was influenced in any way by what anyone else thought.
The story begins with fourteen-year-old Suzie Salmon's violent death at the hands of a neighborhood man George Harvey. Suzie narrates her story from her Heaven. She watches as her family struggles after her death trying to cope with the loss. Without closure and losing hope her parents struggle with their relationship as well as their relationship with their two remaining children.
All of the characters are really well written. Her parents, siblings, teachers etc. grieve in many different ways. Susie herself is a truly unique narrator and remains detached from the events she is describing but very watchful of the loved ones she has left behind.
I felt that the story was told gently and compassionately and I was invested in both what was happening to Susie as well as her family. Although a very sad and emotional story which at times was difficult to read, there is also periods of hope, humor, and love.
An intriguing story with many memorable characters with an excellent plot. Susie's Heaven is such a unique and interesting place. A mesmerizing read that I highly recommend.
I chose this book as it's one that I really loved. However, I have noticed it's one that people seem to love or hate. I would love to hear what you thought of it. Loved it? Hated it?  If you haven't read it yet, do you think you will?