Goodreads Monday is a weekly meme hosted by Lauren's Page Turners . To take part,  simply choose a random book from your TBR and show it off.  Be sure to check out Lauren's blog and link back to add your own links!
Today the book I'm going to show off is:  Lockdown: A Novel of Suspense by Laurie R. King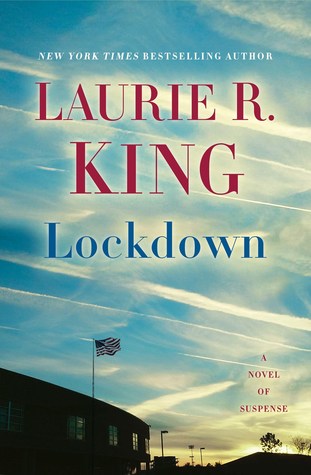 Goodreads Description
A classroom is held hostage by someone with a thirst for revenge in this stunningly intricate, ripped-from-the-headlines novel of rich psychological suspense from the New York Times bestselling author of the Mary Russell mysteries.
Career Day at Guadalupe Middle School: a day given to innocent hopes and youthful dreams. A day no one in attendance will ever forget.
New York Times bestselling author Laurie R. King is an award-winning master of combining rich atmospheric detail with riveting, keen-edged mystery. Now, in her newest standalone novel of psychological suspense, King turns her sharp eye to a moment torn from the headlines and a school under threat.
A year ago, Principal Linda McDonald arrived at Guadalupe determined to overturn the school's reputation for truancy, gang violence, and neglect. One of her initiatives is Career Day–bringing together children, teachers, and community presenters in a celebration of the future. But there are some in attendance who reject McDonald's bright vision.
A principal with a secret. A husband with a murky past. A cop with too many questions. A kid under pressure to prove himself. A girl struggling to escape a mother's history. A young basketball player with an affection for guns.
Even the school janitor has a story he dare not reveal.
But no one at the gathering anticipates the shocking turn of events that will transform a day of possibilities into an explosive confrontation.
Tense, poignant, and brilliantly paced, Laurie R. King's novel charts compelling characters on a collision course–a chain of interactions that locks together hidden lives, troubling secrets, and the bravest impulses of the human heart.
I haven't had LOCKDOWN on my TBR for very long. I came across a friends review recently and was instantly intrigued. After reading the description and a few positive reviews I had to add it to my list.  It sounds like a suspenseful read with an interesting cast of characters.  It also seems like this may not be exactly what I'm expecting, which makes me want to read it even more.
LOCKDOWN will be released June 13, 2017 by Bantam
Is this book on your TBR yet?