Welcome to Teaser Tuesday, the weekly Meme that is hosted by The Purple Booker.  It is very easy to play along:
• Grab your current read
• Open to a random page
• Share two (2) "teaser" sentences from somewhere on that page
• BE CAREFUL NOT TO INCLUDE SPOILERS! (make sure that what you share doesn't give too much away! You don't want to ruin the book for others!)
• Share the title & author, too, so that other TT participants can add the book to their TBR Lists if they like your teasers!
Here are my "teaser" sentences:
She should be counting her blessings, like her strawberry daughters at her beautiful lake house, for example. She should be thankful for everything she has, everything I've provided, not missing something, someone who never existed.
And the book is……
Best Day Ever
by

Kaira Rouda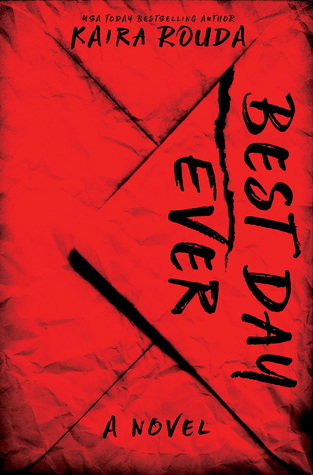 Published September 7th 2017 by HQ
Goodreads Description:
I glance at my wife as she climbs into the passenger seat, and I am bursting with confidence. Today will be everything I've promised her…and more…
Paul Strom has the perfect life: a glittering career as an advertising executive, a beautiful wife, two healthy boys and a big house in a wealthy suburb. And he's the perfect husband: breadwinner, protector, provider. That's why he's planned a romantic weekend for his wife, Mia, at their lake house, just the two of them. And he's promised today will be the best day ever.
But as Paul and Mia drive out of the city and toward the countryside, a spike of tension begins to wedge itself between them and doubts start to arise. How much do they trust each other? And how perfect is their marriage, or any marriage, really?
Forcing us to ask ourselves just how well we know those who are closest to us, Best Day Ever crackles with dark energy, spinning ever tighter toward its shocking conclusion. In the bestselling, page-turning vein of The Couple Next Door and The Dinner, Kaira Rouda weaves a gripping, tautly suspenseful tale of deception and betrayal dark enough to destroy a marriage…or a life.
I've only just started this book, but so far I'm intrigued!!
I can't wait to read more!!