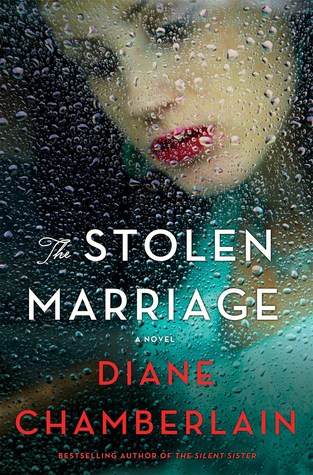 The Stolen Marriage by Diane Chamberlain
Expected publication: October 3rd 2017 by St. Martin's Press
Diane Chamberlain is one of my favorite authors. So I was very excited to read "The Stolen Marriage". I'm usually not a big fan of historical fiction novels but I always find that I am pulled in by whatever subject matter Ms. Chamberlain is writing about, and this time was no different.
The book opens in Baltimore, Maryland in August 1943. Tess DeMello is celebrating her twenty-third birthday and her fiancé, Vincent's completion of his hospital residency. Tess has loved Vincent for as long as she can remember. Now that he's a full-fledged doctor and Tess will be graduating from nursing school, they are looking forward to working side by side. She has it all planned. Where they will live, how many children they will have…everything. After being engaged for the last year she will finally be his bride in May 1944.
But in a shockingly turn of events, Tess ends her engagement to Vincent and marries a man she knows nothing about. She relocates to live with her new husband, Henry in Hickory, North Carolina. Hickory is NOTHING like Little Italy. Her new husband runs a fine furniture factory that's been in his family for years. Everyone judges Tess thinking she married Henry for his money. They don't trust her and many seem to outright despise her.
Now Tess is unhappy and trapped in a loveless marriage to a man who has many secrets. Although Henry can be very kind, he's often moody. He's usually late coming home and sometimes doesn't come home at all – offering lame excuses for his absence. While their house is being built they must live with Henry's mother and sister who barely tolerate Tess. People tell her that there are so many things she doesn't know but won't tell her what those things are.
 "It's a terrible feeling, being despised. From the moment I set foot in Hickory, I felt the suspicion, distrust, and outright hostility of most of the people I met"
Tess is hit with one thing after another as things go from bad to worse, and it doesn't look like things are going to get much better.
But when a polio outbreak hits Hickory, Tess is determined to do all she can to help. Will Tess ever find happiness and acceptance in Hickory? And will she ever find the love she so desperately wants and deserves?
After a promising start, there was a lot going on and at first it wasn't pulling me in. However, I needn't have worried as it wasn't long before I was gripped by the story and excited to find out what was going to happen next. As usual, the author has created many wonderful characters. Some characters I absolutely loved and others that made me furious. I was annoyed with Tess at first and at times I wanted to shout at her to stand up for herself. But I also admired her ability to hold her head up high.
Diane Chamberlain writes fiction books but the stories are often written around real events in history such as the war, polio, racism etc. This novel was no different. I always learn new things when reading her novels, and often end up doing more of my own research to find out more. I found it interesting reading about a time that my mother lived in. In many ways it made me realize how fortunate I am, and how much I take for granted.
A fantastic story about secrets, love, racism, betrayal, forgiveness and so much more. I can't wait to read more from Diane Chamberlain.
Thank you to Netgalley and St. Martin's Press for providing an advanced readers copy of this book for me to read in exchange for my honest review.