Teaser Tuesday is a weekly bookish meme hosted by The Purple Booker.
It is very easy to play along:
• Grab your current read and open to a random page
• Share two (2) "teaser" sentences from somewhere on that page
• BE CAREFUL NOT TO INCLUDE SPOILERS!
• Share the title & author, too, so that other participants can add the book to their TBR Lists if they like your teasers!

Here are my "teaser" sentences:
"I'm here today to right an old wrong," she began. Camera shutters clicked, and she blinked away the flashes that momentarily blinded her. "I'm here today to tell you what happened to me fourteen years ago, and why, for far too long, I've kept silent"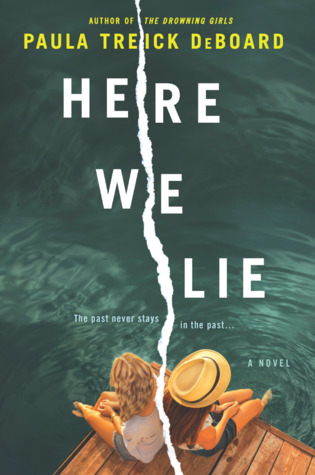 Here We Lie
by

Paula Treick DeBoard

Expected publication: January 30th 2018 by Park Row Books

Goodreads Description:

Megan Mazeros and Lauren Mabrey are complete opposites on paper. Megan is a girl from a modest Midwest background, and Lauren is the daughter of a senator from an esteemed New England family. But in 1999, Megan and Lauren become college roommates and, as two young women struggling to find their place on campus, they forge a strong, albeit unlikely, friendship. The two quickly become inseparable, sharing clothes, advice and their most intimate secrets.

The summer before their senior year, Megan joins Lauren and her family on their private island off the coast of Maine. The weeks go by, filled with fun and relaxation, until late one night at the end of the vacation, something unspeakable happens, searing through the framework of the girls' friendship and tearing them apart. Many years later, in the midst of a political scandal, Megan finally comes forward about what happened that fateful night, revealing a horrible truth about Lauren's family and threatening to expose their long-buried secrets.

In this captivating and moving novel of domestic suspense, Paula Treick DeBoard explores the power of friendship and secrets and shows how betrayal can lead to disastrous, and deadly, consequences.

My Thoughts:

I read "The Drowning Girls" by Paula Treick DeBoard a little over a year ago and really enjoyed it. I haven't gotten very far in this book yet….. but so far so good!!