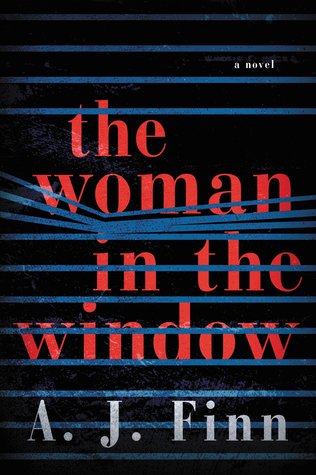 Published January 2nd 2018 by William Morrow
I had "The Woman in the Window" on my list to read, but thought it would be awhile before I got to it. But then I came across it on Audible. So I decided to use one of my credits for it. I am starting to enjoy audiobooks a lot more, though I do find them harder to review. I usually have a ton of post-it tabs in the books I read that help me keep track of things. With audio, I'm usually relaxing and don't want to stop to make a note.
Anna Fox was once an active child psychologist with a wonderful life. But after a traumatic event almost a year ago, everything changed. She now suffers from agoraphobia. Her home is her entire world…she no longer goes outside. Anna's life now consists of old movies, a lot of wine (and prescription pills), and online chat rooms. But she's also found another way to spend her time…. watching the neighbors through her camera lens. She knows everyone's schedule; she even knows who is having an affair.
Anna notices a new family has moved into the house across the street. They are the Russell's, a married couple with a teenage son. From everything Anna has seen they look like the perfect family. But of course, looks are often deceiving. One evening, as Anna is watching the Russell house she sees something she's was never meant to see, something horrible… and it sends her life into a tailspin.
Did Anna really see what she thinks she did or is it possible she was wrong? Could she have hallucinated or had a bad dream? She doesn't know who she can trust. She's positive of what she saw but can she make others believe her? And if she's right…could she be in danger too?
To be honest, I had a hard time getting into the story at first. I wasn't connecting to the story and characters as well as many other readers did, which is fine as we won't all love the same books. I think I may have been expecting something different. I was a bit confused at times and although I eventually warmed up to the story and to Anna, it did take longer than I expected. I did enjoy the last part of the book so I am glad that I didn't stop reading.
There were some very good twists, though I did figure out a few things ahead of time. I did like how everything came together in the end with a twist that I did not see coming.
Overall I thought this was a decent psychological suspense novel and I'm looking forward to seeing what A.J. Finn writes next.