Looking Ahead is a monthly meme hosted by Tina at Reading Between the Pages.
It's a great way of sharing what you are planning/hoping to read that month.  It's also a fun way of seeing what other bloggers are planning on reading that month.
If you decide to join, don't forget to visit Tina's blog and link up!
I'm going to say the same thing I said last month….
How can we already be this far into 2018 already? I can't believe it's April. March was a crazy month in many ways. I had some health issues that slowed my reading and posting down a little. Not so much the reading but I'm behind on writing my reviews. And my daughter turned 18! I can't believe it! Plus her graduation is coming up. I just don't know where the time went!
OKAY NOW…..ON TO THE BOOKS!  There may be a few repeats this month as I didn't end up reading all that I meant to last month. And there are a few books from March's list that I have read but haven't written the review yet.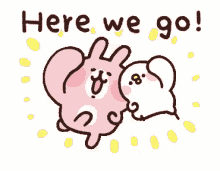 April 2018

Currently reading:
Closer Than You Know by Brad Parks

Published March 6, 2018 by Dutton Books
GOODREADS DESCRIPTION:

Disaster, Melanie Barrick was once told, is always closer than you know.
It was a lesson she learned the hard way growing up in the constant upheaval of foster care. But now that she's survived into adulthood–with a loving husband, a steady job, and a beautiful baby boy named Alex–she thought that turmoil was behind her.
Until one Monday evening when she goes to pick up Alex from childcare only to discover he's been removed by Social Services. And no one will say why. It's a terrifying scenario for any parent, but doubly so for Melanie, who knows the unintended horrors of what everyone coldly calls "the system."
Her nightmare mushrooms when she arrives home to learn her house has been raided by sheriff's deputies, who have found enough cocaine to send Melanie to prison for years. The evidence against her is overwhelming, and if Melanie can't prove her innocence, she'll lose Alex forever.
Meanwhile, assistant commonwealth's attorney Amy Kaye–who has been assigned Melanie's case–has her own troubles. She's been dogged by a cold case no one wants her to pursue: a serial rapist who has avoided detection by wearing a mask and whispering his commands. Over the years, he has victimized dozens of women.
Including Melanie. Yet now her attacker might be the key to her salvation . . . or her undoing.
Shelter In Place by Nora Roberts
Expected publication: May 29, 2018 by St. Martin's Press
GOODREADS DESCRIPTION:
Sometimes, there is nowhere safe to hide.
It was a typical evening at a mall outside Portland, Maine. Three teenage friends waited for the movie to start. A boy flirted with the girl selling sunglasses. Mothers and children shopped together, and the manager at the video-game store tending to customers. Then the shooters arrived.
The chaos and carnage lasted only eight minutes before the killers were taken down. But for those who lived through it, the effects would last forever. In the years that followed, one would dedicate himself to a law enforcement career. Another would close herself off, trying to bury the memory of huddling in a ladies' room, hopelessly clutching her cell phone–until she finally found a way to pour her emotions into her art.
But one person wasn't satisfied with the shockingly high death toll at the DownEast Mall. And as the survivors slowly heal, find shelter, and rebuild, they will discover that another conspirator is lying in wait–and this time, there might be nowhere safe to hide.

Brett's the fan favorite. Tattooed and only twenty-seven, the meteoric success of her spin studio—and her recent engagement to her girlfriend—has made her the object of jealousy and vitriol from her cast mates.
Kelly, Brett's older sister and business partner, is the most recent recruit, dismissed as a hanger-on by veteran cast. The golden child growing up, she defers to Brett now—a role which requires her to protect their shocking secret.
Stephanie, the first black cast member and the oldest, is a successful bestselling author of erotic novels. There have long been whispers about her hot, non-working actor-husband and his wandering eye, but this season the focus is on the rift that has opened between her and Brett, former best friends—and resentment soon breeds contempt.
Lauren, the start-up world's darling whose drinking has gotten out of control, is Goal Diggers' recovery narrative—everyone loves a comeback story.
And Jen, made rich and famous through her cultishly popular vegan food line plays a holistic hippie for the cameras, but is perhaps the most ruthless of them all when the cameras are off.
Based on a real story – in 1950, a young, beautiful Polish refugee arrives in Hyannisport, Massachusetts to work as a maid for one of the wealthiest families in America. Alicia is at once dazzled by the large and charismatic family, in particular the oldest son, a rising politician named Jack.
Alicia and Jack are soon engaged, but his domineering father forbids the marriage. And so, Alicia trades Hyannisport for Hollywood, and eventually Rome. She dates famous actors and athletes and royalty, including Gary Cooper, Kirk Douglas, and Katharine Hepburn, all the while staying close with Jack. A decade after they meet, on the eve of Jack's inauguration as the thirty-fifth President of the United States, the two must confront what they mean to each other.
The Summer I Met Jack is based on the fascinating real life of Alicia Corning Clark, a woman who J. Edgar Hoover insisted was paid by the Kennedys to keep quiet, not only about her romance with Jack Kennedy, but also a baby they may have had together.
The rest of the month:
Those Other Women by Nicola Moriarty
Expected publication: June 26,  2018 by William Morrow
GOODREADS DESCRIPTION:
Poppy and Carise are frustrated. They're tired of watching the same old cycle: women in their office fall pregnant, leave early and take months off only to eventually return, requesting 'more flexibility'. All with smug smiles on their faces.
That's why they create the 'No Baby Club' – a Facebook group dedicated to women like themselves who don't have children, who don't want children and who simply want to vent about the 'annoying mummies' in their lives. They create challenges designed to make sure that childless women reap the benefits, like leaving early for a fake appointment and making one of them pick up the slack for a change. Memberships soar.
But as the group's tasks get more extreme, Carise starts to worry that they're taking things too far. On top of that, it seems that not all the new members are being honest and it's not long before things start to slide disastrously out of control . . .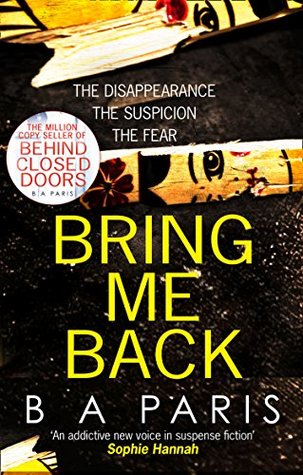 Bring Me Back by B A Paris
Expected publication: June 19, 2018 by St. Martin's Press
GOODREADS DESCRIPTION:
 A young British couple are driving through France on holiday when they stop for gas. He runs in to pay, she stays in the car. When he returns her car door has been left open, but she's not inside. No one ever sees her again.
Ten years later he's engaged to be married; he's happy, and his past is only a tiny part his life now. Until he comes home from work and finds his new wife-to-be is sitting on their sofa. She's turning something over in her fingers, holding it up to the light. Something that would have no worth to anyone else, something only he and she would know about because his wife is the sister of his missing first love.
As more and more questions are raised, their marriage becomes strained. Has his first love somehow come back to him after all this time? Or is the person who took her playing games with his mind?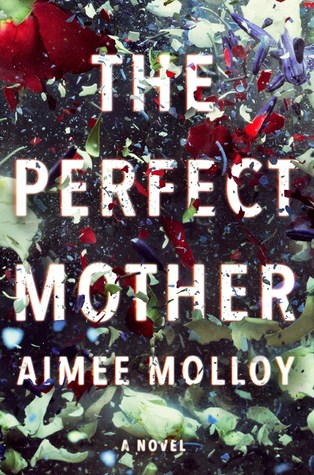 The Perfect Mother by Aimee Molloy
Expected publication: May 1, 2018 by Harper
GOODREADS DESCRIPTION:
They call themselves the May Mothers—a collection of new moms who gave birth in the same month. Twice a week, with strollers in tow, they get together in Prospect Park, seeking refuge from the isolation of new motherhood; sharing the fears, joys, and anxieties of their new child-centered lives.
When the group's members agree to meet for drinks at a hip local bar, they have in mind a casual evening of fun, a brief break from their daily routine. But on this sultry Fourth of July night during the hottest summer in Brooklyn's history, something goes terrifyingly wrong: one of the babies is abducted from his crib. Winnie, a single mom, was reluctant to leave six-week-old Midas with a babysitter, but the May Mothers insisted that everything would be fine. Now Midas is missing, the police are asking disturbing questions, and Winnie's very private life has become fodder for a ravenous media.
Though none of the other members in the group are close to the reserved Winnie, three of them will go to increasingly risky lengths to help her find her son. And as the police bungle the investigation and the media begin to scrutinize the mothers in the days that follow, damaging secrets are exposed, marriages are tested, and friendships are formed and fractured.
Well there we go. I read more than I thought last month. I just need to catch up on writing those reviews.  I'm really hoping to get through these and a few others  this month (fingers crossed).
Are any of these on your list to read?

I hope everyone has a wonderful April!
Happy Reading!!!!!