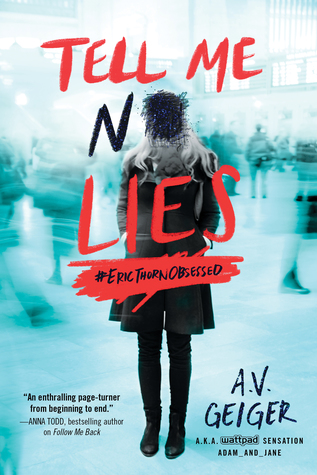 Expected publication: May 5, 2018 by Sourcebooks Fire
 Tell me No Lies is book two in the Follow Me Back Series by A.V. Geiger. I read Follow Me Back last year and enjoyed it. However, I hadn't realized it was going to be part of a series so I was a bit miffed at the ending cliffhanger. I felt better once I realized there was going to be another book in the series.
*** If you haven't yet read book one in this series then I wouldn't read any further as there may be spoilers***
At the end of book one, we are left not knowing what happened to rock star Eric Thorn and Twitter Queen, Tessa Hart.
In book one, Eric had been feeling frustrated and anxious. Those feelings had increased after another popular rock star was killed by an obsessed fan. His PR people made every decision for Eric, and it didn't seem like it was about the music anymore. But Eric found an unlikely ally in superfan, Tessa Hart. Tessa had issues of her own, including the fact that she suffered from Agoraphobia. Tessa gained notoriety online after creating the hash tag #EricThornObsessed on Twitter. At first, Eric and Tessa clashed but then grew closer.
Now both Eric and Tessa are gone. Eric's Twitter account is frozen and his cell phone was found in the snow, smashed with blood all over it. So when Tessa suddenly appears months later, everyone including the police are sure Tessa knows where Eric is.
A story of love, obsession, jealousy, secrets, and lies!
Though I did find the beginning a bit slow, for the most part, this was still a quick read. The story is told from present and the past using flashbacks and interspersed are Tweets from Twitter, Snapchat messages, as well as Police Interview Transcripts. Like the first novel, there were parts of the story that I found implausible. However, this is a fictional YA Thriller so I just tried to go with it.
The author again shows just how social media can interfere with our lives. She brings to light important issues like internet safety, stalking and harassment, Agoraphobia, and other mental health issues.
This was an intriguing read with a lot of action and some good twists and turns. Though I did enjoy the first novel in the series a bit more than this one, I'm still glad I read it as I really wanted to find out what happened with Eric and Tessa. There were a few things that didn't really work for me and I felt that some questions were left unanswered, but overall, I am satisfied with how things came together in the end.
I'd like to thank Sourcebooks Fire and Netgalley for giving me the opportunity to read this book in exchange for my honest review.