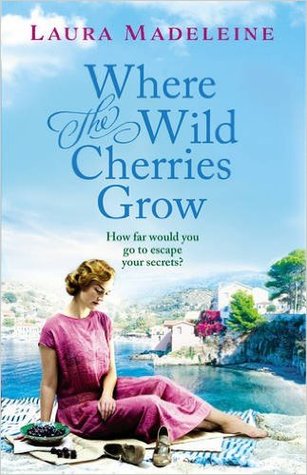 Published February 13, 2018 by Thomas Dunne Books
I don't read a lot of historical fiction. However, now and then I will try a novel from the genre and I usually end up enjoying it. So when this novel with its gorgeous cover came my way, I was really hoping that I would like it….and I am happy to say that I did.
 
1919 – The war is over but Emeline Vane has lost so much….
Her uncle Andrew has been sent to watch over her. He doesn't think she should be living alone. They wanted to send her on to England after her mother's death, but she wouldn't leave Hallerton. Her little brother, Timothy lives with their Uncle and Aunt though he wants to be home with Emeline.
Her uncle wants to sell the house. She doesn't.
"I know this house as well as my own skin. I know its imperfections, its creaking floors and uneven walls, as well as one might know the signs of a hard life on a person's face; weathered but beloved, nonetheless"
After an accident, her uncle makes a decision about her future and Emeline goes along with him. But at the last moment she makes a split decision that will completely alter the course of her life.
"I knew that I had to choose. I could sink back into the seat, give myself up, or I could run, I could risk everything"
1969 – William (Bill) Perch is a nineteen year old solicitor's assistant. He's excited to be handling his first real case. A family is trying to settle power of attorney over their father's assets so that they can sell the family home. However, their Aunt's name is on the deed to the house, and without her they cannot sell. But their Aunt is missing. They have no idea where she is but they say there are rumors she went mad.
Their aunt's name is Emeline Vane and she went missing February 27, 1919.  Now it's Bill's job to figure out what happened to her. So he sets off on his first business trip to see what he can find at the Hallerton House. But time and neglect has left it looking less than impressive. Then Bill finds out that Emeline was his age when she went missing…. something changes for him. It becomes more than just a case. Bill is determined to find out what happened to Emeline. And then he finds her diary.
Soon Bill is also making a life changing decision that sets him on a journey to discover not only Emeline but himself. Will Bill be brave enough to do what he needs to do to find out what really happened to Emeline? Will the chances he takes be worth possible consequences?
This was a quick read. I picked it up in the morning and other than a few small breaks, I read it continuously, finishing it in just a few hours. Told in two different time frames 1919 (Emeline) and 1969 (Bill). The story flowed well and it was easy to keep up with everything that was happening.
Packed with emotions and many beautiful moments, this was a pleasure to read. I could "see" the beautiful landscapes and the descriptions of food make my stomach growl. The two different story-lines came together in a wonderful but bittersweet ending.
The author has written a wonderful story with many great characters, an incredible atmosphere, and a lot of heart.
I'd like to thank Thomas Dunne Books/St. Martin's Press for giving me the opportunity to read this book in exchange for my honest review.