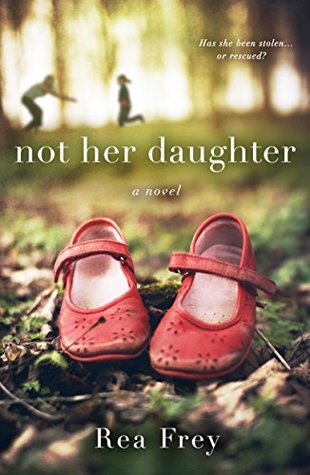 Expected publication: August 21, 2018 by St. Martin's Griffin
As soon as I read the description of this novel, I knew it was one I had to read. I was pretty sure that I was going to love it.
I was right.
Sarah Walker has just gone through a tough break-up. She's trying to get on with her life.  Sarah is on her way to the airport for a business trip when she sees HER.
A little girl, not more than five or six, stood in a red dress complete with sequins, a red bow, and even ruby-red slippers. "She looked like Christmas".
Then she sees the girl's mother. Face red with anger, she was yelling at her daughter "Emma hurry up"…"Emma stop it, just STOP" …"Emma, what is wrong with you"…"Emma.. GO!" Sarah watches openmouthed as the woman shoves the girl out of the way, yells at her husband, and then continues to yell at the girl. She feels like she's the only one who notices this spectacle.
It all takes her back to her own childhood, her own mother. Sarah remembers how she used to envy other girls when they were out with their mothers. She would see the tolerance, love, and patience on those mother's faces, instead of the annoyance, exhaustion, and intolerance she saw on her own mother's face….and what she sees now on this mother's face. She knows that parents get stressed and being at the airport can make anyone overwhelmed and cranky…
"I knew all of that, but seeing this outright act of cruelty for no apparent reason made me want to punch this woman in the face"
Sarah can't get the image of the woman pushing and pulling her daughter around out of her head.
Weeks later, out on a project for work she sees Emma again. "The girl I first saw in the airport. The girl who rocketed back into my life when I was just starting to forget her".
It can't be a coincidence…
She knows she should just leave, but one question keeps hounding her "What if she needs to be rescued?"
She can leave and go back to her normal life. She can make an anonymous call and hope this family gets the help they need. But then she sees something and she's no longer thinking, the decision has been made and she's acting on it.
Amy Townsend is an unhappy wife and mother. Her life is ALWAYS the same …kids, work, cleaning, cooking, and errands. No matter how she tries to organize she is always behind.
Amy doesn't know why she's able to keep her cool with her son but lashes out when it comes to her daughter, Emma. Every night she promises herself that the next day will go better. But it never does. Now Emma is gone and Amy hasn't told the entire truth about what happened.
Amy Townsend is definitely an unfit mother. Does she deserve a second chance? Does she even want one?
The story is told from Sarah and Amy's perspective and alternates between before, during, and after.
This was a gripping read. I've read quite a few missing children books over the years and I found this one very unique. This was a well-written, quick read that was very easy to follow. There were a couple of things some readers may find unlikely, but it is a fictional story so instead of worrying about it, I just gave myself over to the story and enjoyed it.
Rea Frey's writing comes across very authentic and honest and she addresses some very important issues. I was completely invested in this story and anxious to see how things were going to turn out.  I was almost holding my breath as I waited to see which direction the story was going to take. I was very satisfied with how everything came together in the end.
This was a fantastic debut novel and I really hope Rea Frey is hard at work on her next novel… because I can't wait for more!
I'd like to thank St. Martin's Griffin for giving me the opportunity to read this book in exchange for my honest review.