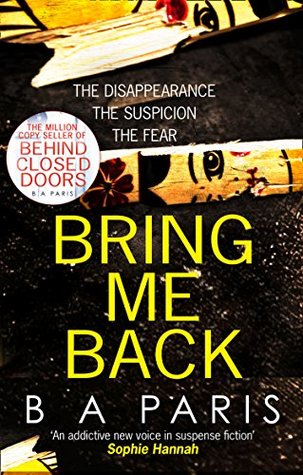 Expected publication: June 19, 2018 by HQ
Twelve years ago Finn's girlfriend, Layla disappeared from a rest stop on their way home from vacation. In his statement to police, he said that Layla was in the car when he stopped to use the restroom. When he got back she was nowhere to be found. His phone wasn't getting a signal so he drove to the nearest gas station to ask for help.
"It was the truth. But not quite the whole truth"
Finn was arrested on suspicion of Layla's murder. However, her body hadn't turned up and there was insufficient evidence to prove Finn did anything wrong, so he was cleared of any wrongdoing. Layla was never seen again.
Twelve years later, Finn has moved on and is even engaged. Finn and his fiancé are heading out for dinner one evening when Finn's phone rings. It is one of the detectives who worked on Layla's case calling. Apparently, one of Finn's old neighbors came into the police station and told the detective that he saw Layla the previous day.
 "He said he saw her standing outside the cottage and that when he went to speak to her, she ran off"
At first, Finn is shocked but both Finn and the detective figure the elderly neighbor must have been seeing things. They let it go, but the thought stays stuck in the back of Finn's mind. And as days go by more and more strange things keep happening.
The story flips back and forth between "then" and "now" as we learn more about Finn's relationship with Layla as well as his relationship with his fiancee. Finn feels like he's losing control. He doesn't know who he can trust.
So what really happened the night Layla disappeared? Could she really be alive after all of these years?         
After reading and enjoying the author's two previous novels, I was hoping I would enjoy this one too….and for the most part, I did.  Suspending disbelief is necessary for this novel (as with most thrillers), but that really didn't bother me. But I did find that there was some repetition that was a bit distracting. I also felt like things really slowed down midway through. Thankfully, things did pick up again and I was pulled back into the story.
For quite a while I was pretty sure I had it all figured out. But the author tossed in a few red herrings as well as some twists and turns that threw me off.  I may have been right about a couple of things but I didn't see everything coming…ESPECIALLY that ending!!
So although there were a few things that bothered me about the story, overall I still enjoyed it. In my opinion, this was another clever psychological suspense novel from B.A Paris, and I am excited to see what she comes up with next.
I'd like to thank Netgalley for giving me the opportunity to read this book in exchange for my honest review.