Teaser Tuesday is a weekly bookish meme hosted by The Purple Booker.
It is very easy to play along:
• Grab your current read and open to a random page
• Share two (2) "teaser" sentences from somewhere on that page
• BE CAREFUL NOT TO INCLUDE SPOILERS!
• Share the title & author, too, so that other participants can add the book to their TBR Lists if they like your teasers!

Here are my "teasers" :
"There is still so much to do, so much more pain to inflict, but I will not be deterred. I failed once before, but this time, I'll get it right. There's too much at stake to get it wrong."
From the novel:
The Other Woman
by 

Sandie Jones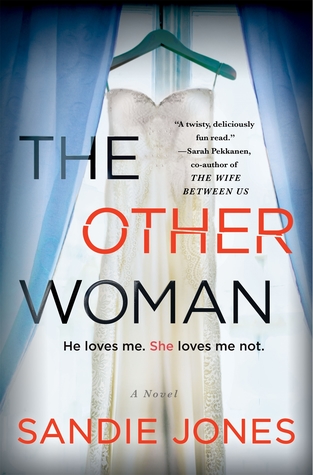 Goodreads Description:

Emily thinks Adam's perfect; the man she thought she'd never meet. But lurking in the shadows is a rival; a woman who shares a deep bond with the man she loves.

Emily chose Adam, but she didn't choose his mother Pammie. There's nothing a mother wouldn't do for her son, and now Emily is about to find out just how far Pammie will go to get what she wants: Emily gone forever.

The Other Woman is an addictive, fast-paced psychological thriller about the destructive relationship between Emily, her boyfriend Adam, and his manipulative mother Pammie.

My Thoughts:
I read the description for this novel a while back, and I have been looking forward to reading it ever since. So far I'm really enjoying it. It pulled me in from the very first page and I'm excited to read more!
I hope you enjoyed my "teasers".
Happy Reading!!!