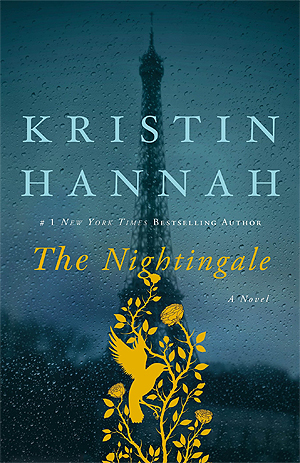 Published February 3, 2015 by St. Martin's Press
WOW!  What a fantastic novel!
Having read all of Kristin Hannah's books as soon as I could get my hands on them, I'm shocked at how long it took me to decide to read this one. Honestly, I was really nervous. I have always had trouble reading books about war and the horrific injustices that many suffered during that time. I knew it was going to be an emotional read that would likely upset me and make me angry.
However, I think it's important to remember, to learn, and to NEVER forget.
This was a story about two very different sisters with very different ideas who show remarkable courage, bravery, and resilience.
Although I have a lot of health issues and pain, it's nothing compared to what people went through in the war. The pain they had from walking in frigid temperatures with shoes that were falling apart.  The descriptions of how hungry and cold people were and the many horrendous things they went through went straight to my heart. It made me think about all of the things I've complained about. While this is a fiction story, the things that happened in the book DID happen.
This novel helps me appreciate all that I have.
Kristin Hannah knows how to set a scene. The characterization was phenomenal. And yes, it was definitely a very emotional read. My emotions were all over the place and by the end of the story, I was a complete mess. But I don't regret reading this book for a second. It was heartbreaking but it also showed just how resilient the human spirit is.
I could go on and on about this novel but I will stop here. I can just say it's one of the best books I've read and will forever remain on my favorites list. Kristin Hannah is an astonishingly gifted writer and "The Nightingale" is a truly incredible book that I highly recommend.