Throwback Thursday is a meme created by Renee at It's Book Talk to share old favorite books rather than just the new shiny ones. This is a great idea to bring back to life some much-loved books. Please feel free to join in.
My choice for this week is: 
Only Ever Yours by Louise O'Neill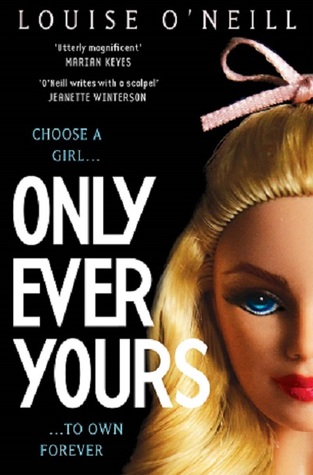 Published July 3, 2014 by Quercus
Goodreads Description:
In a world in which baby girls are no longer born naturally, women are bred in schools, trained in the arts of pleasing men until they are ready for the outside world. At graduation, the most highly rated girls become "companions", permitted to live with their husbands and breed sons until they are no longer useful.
For the girls left behind, the future – as a concubine or a teacher – is grim.
Best friends Freida and Isabel are sure they'll be chosen as companions – they are among the most highly rated girls in their year.
But as the intensity of final year takes hold, Isabel does the unthinkable and starts to put on weight. ..
And then, into this sealed female environment, the boys arrive, eager to choose a bride.
Freida must fight for her future – even if it means betraying the only friend, the only love, she has ever known. . .
My Thoughts:
This is one of those books that stays with you long after you've finished the last page.
With elements of The Stepford Wives, 1984, The Handmaid's Tale and Mean Girls' this book is ABSOLUTELY one of the more unusual, disturbing, and intriguing books I've read.
This novel takes place in a "future" world where women (called eves) are created purely for male pleasure. They are no longer bred naturally but manufactured to become one of three things when they hit the age of seventeen….companions, concubines, or chastities. A companion is a version of a physically perfect wife whose duty is to bear sons and look after their husbands. Concubines are for the man's sexual gratification. Chastities are not chosen to be companions or concubines, so they run the school and take care of the eves.
freida and her best friend isabel hope they will be chosen as companions so they can raise their sons together. But when self-esteem starts behaving strangely, freida finds herself having to choose whether to support her best friend or keep her distance.
But not everything is as it seems…
This story blew my mind. Cut off from the outside world "eves" are trained how to stay beautiful and make men happy. They are told, "there is always room for improvement" and strive for perfection. They are discouraged from showing any emotions and crying is prohibited.
The school setting is very similar to the current high school environment but creepier and with perverse learning plans. At times it was difficult to read especially when they were set in competitions against each other in a "forced" bullying way.
The author was incredibly thorough with details. For example, all female names were in lowercase to show their "place" in society. The story includes issues from current times including eating disorders, peer pressure, bullying and self-esteem issues.
An extremely dark but gripping book that will stay with me for a very long time.
Highly recommended!!!!