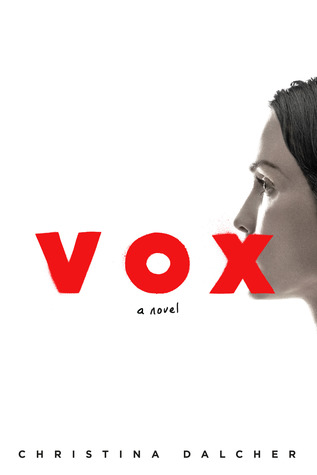 Published: August 21, 2018 by Berkley
As soon as I read the description for this novel, I knew it was a book I HAD to read.
I'm often running to Google for one thing or another when I'm reading a thought-provoking book. But this time, I was Googling things before I even had the novel in hand. The first thing I had to know was how many words the average person speaks in a day. Google told me:
The average woman speaks 20,000 words a day. The average man speaks 7,000 words a day.
WOW!
Imagine that you are only allowed to speak 100 words in a day…
In VOX people in the United States are given a 100 word per day limit. But NOT everyone is given this limit….just the female population. They wear a counter on their wrist to keep track of how many words they speak. If they go over the 100 word limit…they pay a painful price. What happens if people try to communicate in other ways such as writing things down or using sign language? Well, let's just say it's not something they want to find out.
Words shouted out in passion, in anger, in a child's nightmare – IT ALL COUNTS!!
They are kept a prisoner in their own country. Some people fled to places like Canada, Mexico in the beginning, but now there's no escaping.
Dr. Jean McClellan is/was a cognitive linguist but now…
"I've become a woman of few words"
Jean's husband, Patrick reminds her with a tap on her counter that she only has a few words left for the day. The counter will reset at midnight. Her husband and sons have to remember to ask close-ended questions to Jean and her daughter, six-year-old, Sonia. Her sons are eleven and they have seen what happens if more words are spoken. There are times where she's irrationally angry at her husband and sons.
"I don't hate them. I tell myself I don't hate them. But sometimes I do"
When Jean attended university her friend, Jackie tried to warn them. She told them to think about words like 'spousal permission' and 'paternal consent.' Think about waking up one morning and finding you don't have a voice in anything."
But now THEY need Jean's help, her expertise. At first, she tells them she won't help them, but then they make her another offer….one she doesn't know if she can refuse.
Will Jean help those who are responsible for the position she's in? The position ALL women and girls are in?
I FLEW through this novel. Although it made me incredibly angry at times, I was hooked. Some things I would find over the top one minute and terrifyingly possible the next.
A fascinating storyline with well-developed characters and an ending that I didn't see coming.
In my opinion, "Vox" is a thought-provoking, excellent read.
I'd like to thank Berkley Books for giving me the opportunity to read this book in exchange for my honest review.