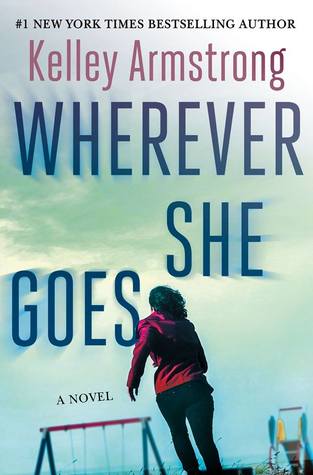 Expected publication: June 25th, 2019 by Minotaur Books

What a great read!

Aubrey Finch has made mistakes. The pain in her shoulder is a reminder of a big one.
Aubrey is separated from her husband, Paul who has primary custody of their daughter, Charlotte. Aubrey didn't want to uproot her daughter until she found an acceptable place for them to live. It was supposed to be temporary. That was six months ago. Aubrey and Paul are civil with each other. They both seem to want the best for Charlotte. But Aubrey knows if Paul ever found out about her past, he wouldn't be so civil.
Aubrey loves her daughter, but motherhood has never come naturally to her. She watches the other parents; tries to "observe and assimilate".  She reads all the articles and blogs but she just can't relate to the other parents.
One day while doing cartwheels with Charlotte at the park, Aubrey meets another young mom who doesn't seem to fit in either. They strike up a conversation as they watch their children play.
"I see this young woman, with her old needle scars and her worn jeans and her shabby sneakers and the way her face glows every time her gaze lights on her son, and she's the mother I connect to."
A few days later Aubrey is jogging through the same park. She notices a boy on the swings. It looks like the boy from the other day. Aubrey doesn't see his mother anywhere. Suddenly she hears someone shout and the boy heads in the direction of a big SUV.  But when she hears him cry out. "No! Let me go!" Aubrey starts to run in his direction. The car pulls into traffic and roars off.
It's gone.
Aubrey tries to explain what she saw to the police but they tell her that no one else saw anything. The police also say that the other parents see Aubrey watching them and their kids. "You make some of the other parents uncomfortable".
Aubrey contacts the police again and they tell her no one has reported a child missing. She feels like no one believes what she saw, but her gut tells her she's right.
Aubrey tries to put it out of her head. Her daughter needs to be her primary focus.
"Even if I am right, is it worth the risk to help a stranger?"
Then she sees a story in the local news that changes everything. Suddenly, Aubrey is more involved than ever. She still worries about being exposed. Her past coming out could ruin everything, but she can't just stand by. She NEEDS to help. Aubrey knows what it is like to be left behind, to wait for someone…anyone to come. She's going to find a way to prove what she saw.
But if she continues to investigate will she be putting her own child in danger?
How far would you go to save a child that wasn't your own? 
I really enjoyed this engrossing and thought-provoking read.  I thought it was a unique take on a missing child story.
I really felt for the main character. Aubrey is a single mother who isn't confident in her parenting skills. She hasn't always made the best decisions but she was a relatable character. I was fully invested in the story and wanted Aubrey to succeed.
Overall, this was a touching and well-paced domestic suspense novel that held my interest from start to finish.
I'd like to thank St. Martin's Press for providing me with an advanced copy of this novel. All opinions are my own.