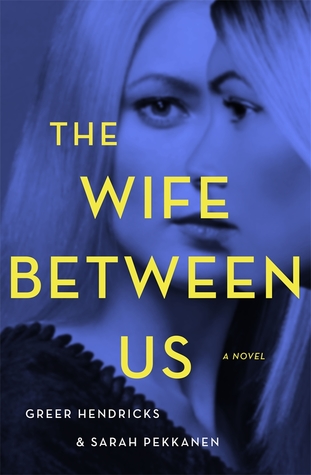 Expected publication: January 9th 2018 by St. Martin's Press
All the stars!!
It was the cover that first caught my eye. I loved it. And after reading the description for this novel, I couldn't wait to read it.
As the book opens, a woman is unaware that someone is watching her.  That someone is out to ruin her.
"She is oblivious to what I have done to her"
NELLIE can't talk about the night that began with drinks and laughter, but ended with police and despair.
But now Nellie feels safe with Richard. He helps to keep the nightmares at bay. Richard is loving, caring, and protective. He has impeccable manners and seems to fit in anywhere and with anyone. Her friends and her mother wonder if he's too good to be true….
"Her mother didn't get it. Richard fixed everything. She'd be safe with him no matter where they lived"
But lately Nellie has been getting strange phone calls and sometimes it seems like she's being followed. Richard tells her not to worry, but it's starting to make her anxious.
Nellie had come to New York to escape.
She loves her job at The Learning Ladder. It's where she met her best friend, Samantha. She enjoys working with preschoolers, although it can be hard dealing with their insufferable parents. They love to ask personal questions, like where she's from. But Nellie is careful not to reveal too much about her past.
What happened to make her leave Florida? What is Nellie hiding?
Nellie doesn't know very much about Richard's ex. Just that they split up before he met Nellie. Richard really is the best thing that ever happened to Nellie.
"She'd always regret certain decisions in her life, but choosing Richard would never be one of them"
VANESSA is living at her aunt's house. Morning is the worst time of the day because for a moment she can forget, but then reality comes crashing down around her. She imagines Richard and her replacement and what they are doing at that moment. Her aunt believes that Vanessa is the victim in all of this. But Vanessa wonders what her aunt would think if she knew the truth…if she knew what Vanessa had done.
She wonders if she'll ever have peace….
"My regret is an open wound"
Vanessa now works as a sales associate at Saks. She waits on the wealthy women that she used to lunch with. Richard got the house, the cars, the money…everything. It's like he wants to erase their relationship, to pretend like she never existed.
"I entered the marriage with nothing. I hadn't worked. I hadn't borne him children. I'd been deceitful. I hadn't been a good wife"
It's so easy to make assumptions. I was positive I knew what was going on but I was so wrong.
Like the book says…
"Assume nothing"
Who is telling the truth? Who can be trusted?
At first I found the beginning a little slow, but then I realized that the authors were trying to set the scene by giving some background. It wasn't long before I was pulled into the story and the lives of these characters.  I was so sure I knew where things were headed. I was in shock at the first twist, confused and thinking I read something wrong or missed a page.   It was so unexpected ….but I loved it. I really appreciate when a story is able to blindside me like that.
"The Wife Between Us" is a twisted and complex psychological suspense novel.  A story about marriage, friendship, betrayal, manipulation, obsession and more.  A fast-paced and addictive novel that held my interest from start to finish. This story kept me on my toes guessing right up until the very end. I honestly can't wait to read more from Greer Hendricks and Sarah Pekkanen.
Thank you to NetGalley and St. Martin's Press for the opportunity to read this book in exchange for my honest review.