Teaser Tuesday is a weekly bookish meme hosted by The Purple Booker.
It is very easy to play along:
• Grab your current read and open to a random page
• Share two (2) "teaser" sentences from somewhere on that page
• BE CAREFUL NOT TO INCLUDE SPOILERS!
• Share the title & author, too, so that other participants can add the book to their TBR Lists if they like your teasers!

Here are my "teasers" :
" I have to get home. And I have to take Emma – poor, unsuspecting Emma – with me. She is my responsibility now, and I will do everything I can to protect her. I am rewriting her story, altering her memories, shifting her shitty childhood into clean pieces: before, during, and after.  Then, now, someday."
From the novel:
Not Her Daughter
by

Rea Frey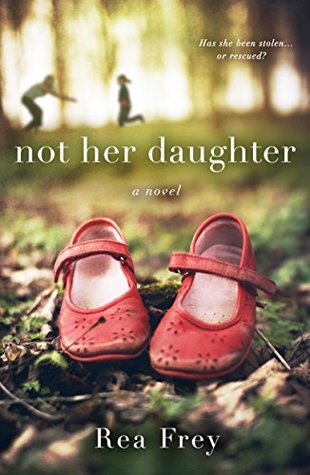 Expected publication: August 14, 2018, by St. Martin's Griffin
Goodreads Description:

Emma Grace Townsend. Five years old. Gray eyes. Brown hair. Missing since June.

Emma Townsend is lonely. Living with her cruel mother and clueless father, Emma retreats into her own world of quiet and solitude.
Sarah Walker. Successful entrepreneur. Broken-hearted. Abandoned by her mother. Kidnapper.

Sarah has never seen a girl so precious as the gray-eyed child in a crowded airport terminal—and when a second-chance encounter with Emma presents itself, Sarah takes her, far away from home. But if it's to rescue a little girl from her damaging mother, is kidnapping wrong?
Amy Townsend. Unhappy wife. Unfit mother. Unsure she wants her daughter back.

Amy's life is a string of disappointments, but her biggest issue is her inability to connect with her daughter. And now she's gone without a trace.
As Sarah and Emma avoid the nationwide hunt, they form an unshakeable bond. But her real mother is at home, waiting for her to return—and the longer the search for Emma continues, Amy is forced to question if she really wants her back.
Emotionally powerful and wire-taut, Not Her Daughter raises the question of what it means to be a mother—and how far someone will go to keep a child safe.
My Thoughts:
I had added this book to the list of  My Most Anticipated Reads of 2018  and have been really looking forward to starting it. Although it won't be released until Summer, I just had to read a few pages. Well, it's already pulled me into the story and I'm having a hard time putting it down.
I can't wait to read more!!