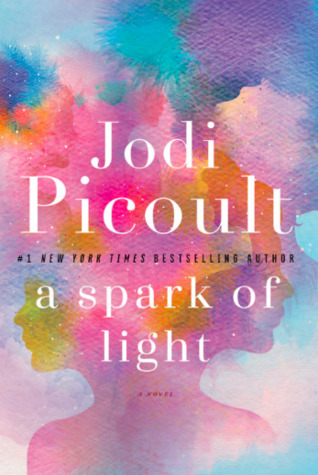 Published: October 2nd, 2018 by Ballantine Books
As soon as I see that a new Jodi Picoult book is going to be released, I can't wait to read it. But as much as I wanted to drag out this novel and make it last, I couldn't stop reading. I had to find out how it all began…and how it all came together in the end. This novel is written in a way I wasn't sure I would like. But I actually really enjoyed how the story was told. The book begins at five pm and moves backward in time with each chapter one hour earlier than the previous chapter.
"The Center" was formerly known as The Center for Women and Reproductive Health. Due to the restrictions designed to make these centers disappear, The Center is now the last clinic of its kind in Mississippi. Though it's been through many battles the fluorescent orange building is still standing, offering services and support to those who come through its doors. It is a safe space…until the day a distraught and desperate man barges into the building, opens fire, and takes everyone inside hostage.
We learn the stories and hear from a variety of people inside The Center. What brought these people together on this fateful day?
Fifteen-year-old Wren doesn't think today is a good day to die.
Hugh McElroy is a hostage negotiator and has dealt with all types of hostage takers. Some are drunk or high, some are on a political mission, and some are depressed and determined to take others with them. But this hostage situation is very different. In fact, Hugh should have stepped down and let someone else take over.
Dr. Louie Ward is a fifty-four-year-old ob-gyn. He decided to become an ob-gyn, in honor of his mother. Dr. Ward attended mass faithfully but also became an abortion provider. He wanted women to feel that they were not alone. He knows the protestors don't realize just how many people they know have actually visited places like The Center ……"Wipe away the stigma and all you were left with was your neighbour, your teacher, your grocery clerk, your landlady."  
George Goddard knew he hadn't been the best husband, but he was determined he would be the best father possible. "It was why, this morning, he had driven all this way to The Center, the last standing abortion clinic in the state of Mississippi".
Three hours away in another part of Mississippi is seventeen year old, Beth.  She is terrified and alone and has just found out that she's being accused of a horrible crime.
Those are just a few of the characters we meet in this story. Just like in real life, we have people with many different views. I thought the characters were well-developed, their stories intriguing and heart-breaking. They are all very different yet have more in common than they would have ever thought possible.
As I mentioned earlier, the way this story is told is a bit different. But in the end, I thought it was the perfect way to tell this story. I'm sure this novel will spark debates and there will be a variety of opinions. I understand it may not be for everyone. Regardless of opinion, I feel that many people will still find this book interesting and thought-provoking.
I have been reading Jodi Picoult's books for years. Her books bring important issues to the forefront, using ordinary people's stories. In my opinion, "A Spark of Light" is another incredible and unique novel.  This story will stay with me for a very long time.
"It stood to reason that both life and death began with a spark of light"
I'd like to thank Ballantine Books for providing me with an advanced copy of this novel.